Transport & Heavy Haulage
Drews Plant Hire & Sales is a successful family owned and

operated equipment hire and sales specialist based in Geelong

.
With over 15 years experience in the transport industry.
We have our own team of dedicated
float drivers experienced and fully equipped to transport machinery of all types safely and efficiently.
We are able to transport earthmoving equipment and trucks of all types. From Dump Trucks and Excavators to Bulldozers, Rollers and Compactors. We work closely with our customers to provide them with a competitive shift rate and to ensure we have their gear on site on time.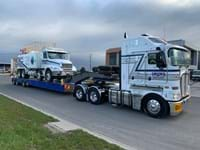 Get in touch with our team to discuss your machine hire or transport requirements and we'll work with you to provide a competitive shift rate
---